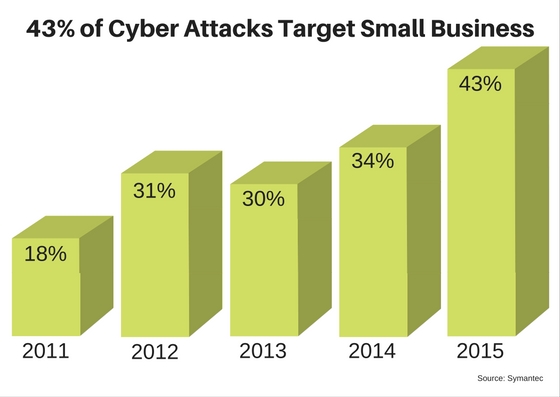 Do you need cyber liability insurance?
All businesses, regardless of size, rely on Information Technology. Therefore, all businesses are exposed to some form of risk if something goes wrong with these IT systems. You may find yourself asking, do you need cyber liability insurance?
Cyber liability insurance is nothing new. It has been well-established in the insurance industry since the turn of the millennium. However, what was once thought of as the preserve of big business has now become vital for many smaller businesses.
The internet security firm, Symantec released startling figures in their 2016 Internet Security Threat Report showing that in 2015 43% of all cyber-attacks happen to small businesses. This is a dramatic increase from 2011 when the figure was only 18%.
This indicates that cyber criminals are no longer choosing who they attack, but rather they are indiscriminately choosing small businesses as they are less likely to have preventative measures in place. So, it has become clear that small businesses need to prepare for this new threat. While there are many preventative measures that you should take, such as training your employees not to respond to phishing emails, a specialist cyber liability insurance policy could cover you if the worst happens.
In their 2016 Ponemon Cost of Data Breach Study, IBM reported that the average cost involved when a single sensitive or confidential data record was stolen or lost is £127. Considering most data breaches usually incur the loss of hundreds of records, this cost can soon skyrocket. It is for this reason that cyber liability insurance is becoming an increasingly popular insurance product.
Cyber liability insurance is designed to support and protect your business if it experiences a data breach or a malicious attack. It can cover the legal costs involved and, depending on the level of cover, it can recuperate the costs involved in any legal settlements. It is a worthwhile insurance product for any size business as the cost of a data breach can be crippling.
At Dixons Commercial Insurance Brokers, we deal with a number of cyber liability insurance providers and can get the level of cover that is right for your business. Give us a call today.