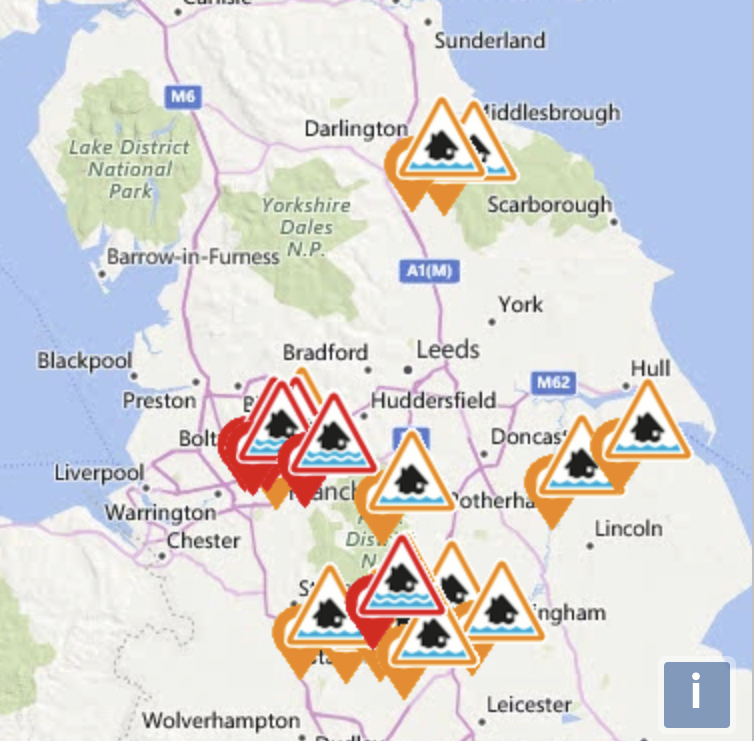 Flood Warning Issued
You would have seen in the news, the North of the UK has been hit with storms leading to floods in parts of the country.
The best way to protect yourself from flooding is to know what to do in advance. You can sign up for flood warnings. These warn of the risk of flooding from rivers, the sea and groundwater. You'll be alerted by phone, email or text when flooding is expected. Flood warnings and alerts are not available in all areas.
Know what to do
The best way to protect yourself from flooding is to know what to do in advance.
The Government issue 3 levels of flood warning:
Flood alert – Prepare
prepare a bag that includes medicines and insurance documents
check flood warnings
Flood warning – Act
turn off gas, water and electricity
move things upstairs or to safety
move family, pets and car to safety
Severe flood warning – Survive
call 999 if in immediate danger
follow advice from emergency services
keep yourself and your family safe
Protect your property
You can make changes to your property that will help you to get back to normal more quickly after a flood and reduce the damage flooding can do.
To reduce flood damage you can take steps such as laying tiles instead of carpets, moving electrical sockets higher up the wall and fitting non-return valves to stop flood water entering your property through the drains.
Find out where you'll get help
Areas prone to flooding may already have flood groups and community hubs where you can find food, clothing, shelter and advice during a flood. Some areas have community flood wardens – volunteers who monitor a specific local area and inform its residents when flooding is likely.
Visit the National Flood Forum or call them on 01299 403 055 for help in finding local support
Most importantly Check your insurance
Make sure you have insurance to protect your home or business. If you have buildings and contents insurance, check if flood damage is included.
If you rent your home, it's your responsibility to protect your belongings. If you are concerned with your current policy and would like a free review please contact us